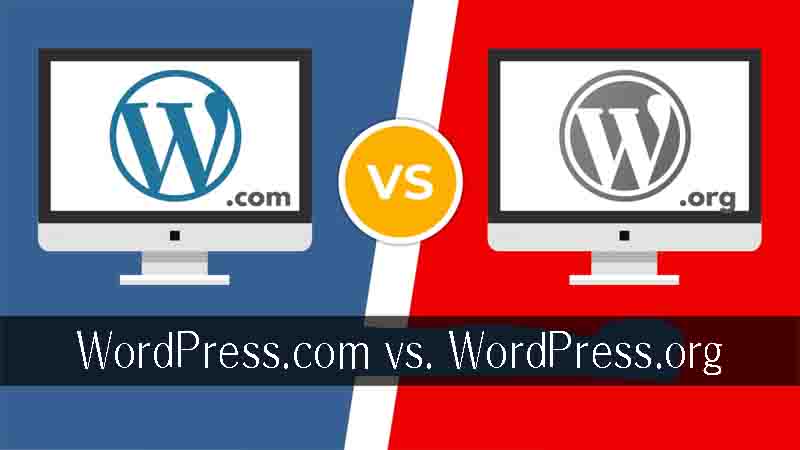 The 10 Key Differences Between WordPress.com vs. WordPress.org
WordPress is a web application to create websites quickly and easily. This is precisely why it is so famous, and that is that we can get a super professional website in a very short time and without having any programming knowledge .
If you have browsed the Internet in search of information, you have surely realized that there are " two different WordPress": WordPress.com and WordPress.org.
And it is that, although the two tools serve the same purpose, which is to create a website, the process is different with each WordPress.
In this post we see the main differences, similarities and their comparison so you can decide which one is better for you.
What are WordPress.org and WordPress.com? Why this differentiation?
First of all, we have to know what WordPress is. WordPress is a content manager, a program to make web pages.
A web page can be done through code or through these content managers.
To do it with code you must have a lot of knowledge in programming and that is why, so that everyone could create a web page, tools like WordPress emerged, in which in no more than an hour we can have everything ready to start designing our web page. .
In addition, this design can be done using the drop and drag method , almost like when you create a PowerPoint presentation, and this is thanks to the plugins , which we will go into more detail about this topic later.
Precisely for this reason it has become so famous, and it is estimated that around 40% of web pages worldwide are created with WordPress .
You can create from an online store that sells thousands of products, to a personal blog.
But, and then, what difference do we find between WordPress.com and WordPress.org ?
Having almost the same name creates a lot of confusion, but even though the two pages are about the same program or tool, they are very different.
WordPress.org is free and open source software, which means anyone can use it without paying a penny. The process we follow with WordPress.org is to hire a hosting service , download the program and install it on it.
Once it is installed we can start designing our website.
Instead, WordPress.com is an online platform from which you create the blog. In this case, we will not have to hire a hosting service, since the platform itself does this.
Let's say that from WordPress.com you don't have to do anything, but the great disadvantage is that the possibilities we have are much smaller than with WordPress.org.
It is something much more complex than what we have just seen, and that is why we are going to break down the differences so that you can get a better idea.
What do both versions share?
Although there are many differences between both applications, we also find some similarities.
In fact, once we get down to business designing our website, the app has the same user interface on both WordPress.com and WordPress.org, but configured differently depending on the WordPress plan. .com that we have contracted.
There are also several themes (also called design templates) that are the same in both versions. A theme is a pre-designed template that we download into our WordPress and apply that design to our website.
Well, some of these themes are available on both WordPress.com and WordPress.org.
In the same way, some plugins with basic functionality are pre-installed on WordPress.com , such as forms, which we do not find by default on WordPress.org and we have to add by downloading and activating plugins.
Analysis of the differences WordPress.org and WordPress.com
WordPress.com and WordPress.org are the platforms that share many things, such as the " drop and drag" method, some plugins and themes or even user interface, but in this section we focus on the main differences to be able to see which one best suits our needs.
1. Differences in usability between WordPress.com and WordPress.org
One of the main differences that we find between both applications is the start-up.
As we saw before, WordPress.com is a system that is in the cloud and that we do not have to do practically anything for its installation.
On the other hand, until now with WordPress.org the process was a bit more technical, since, being a software that we download, we have to hire a hosting service and a domain, and then install WordPress on this hosting.
Currently, most hosts have WordPress installation wizards , with which the process is much easier and similar to WordPress.com, and this bridges the gap between the two applications.
As for the ease of use once you have installed WordPress.org or accessed WordPress.com, the way of working is similar, since as we saw before the user interface is practically the same.
Of course, you should keep in mind that the WordPress.com version has many limitations in the most basic plans, since it does not allow you to install plugins or themes , and this will make basic tasks more complicated .
For example, there is a very famous plugin to work SEO called " Yoast SEO", which is free on WordPress.org, but on WordPress.com we cannot use up to the Business plan, which is 25 euros per month.
SEO is the set of techniques that help us position our website on the Internet and make it appear on the first pages of browsers when someone does a search related to the objective of our website.
Without being able to download an SEO plugin, we have a much more complicated job.
So even, to be able to install any plugin on WordPress.com we will have to pay 25 euros per month for the Business plan, while installing them on WordPress.org is free.
2. Benefits
In WordPress.org and WordPress.com we find very different features, since in WordPress.com we have most of these features in the cheapest plans.
This does not happen on WordPress.org, from where, as we have just seen, you can download the plugins you want, modify everything to your liking and do and undo what you want for free.
The only thing you have to keep in mind is to choose the hosting to hire well, because WordPress needs a quality one. In a poor quality hosting our website will be slow and can cause problems in the medium long term.
Fortunately, we can find very cheap quality hosting , with a price starting at more or less €5 per month (without any discount).
Then I leave you a post where you can find the cheap hosting that we consider the best in the market in terms of quality and benefits, along with links to get the maximum discount when hiring them.
In addition, we strongly recommend you to contract a hosting plan with specific support for WordPress.
The advantage of having a specialized WordPress support service allows us to receive help on any topic related to it, while the normal support of a hosting is limited to queries and problems related to servers and domains, but not to the WordPress application. WP. Check out more interesting articles on our site.
3. Flexibility
When it comes to flexibility, WordPress.org comes out on top again . At WordPress.com we found very few themes available on the basic plans, compared to tens of thousands for the .org version.
This is a huge advantage, as being able to choose the exact template you want to work with can save you a lot of time and effort.
The same goes for plugins. In WordPress.com up to the Business plan , which is 25 euros per month , we cannot download any plugin .
This is something very negative about WordPress.com, since we can only use the basic functions of WordPress, while with WordPress.org we can download the plugins we want from scratch and only for the cost of hosting, which as we have seen can be in 5 euros per month.
Finally, it is important that you take into account if in the future you want to integrate your website with third-party applications.
Since WordPress.com is very limited , even on the highest plans. On the other hand, on WordPress.org you have complete freedom to connect with other applications.
4. Potential for web positioning (SEO) in the two versions of WordPress
Despite the fact that WordPress is one of the most " friendly " platforms in terms of SEO, the .com version fails in this aspect again for several reasons.
We are not going to go into the subject in depth, but keep in mind what we have seen, for example, the impossibility of downloading plugins up to the Business plan (25 euros) with WordPress.com, while in WordPress.org we can download the that we want at any time .
In fact, one of the most famous for SEO is Yoast SEO .
Using a plugin like this is very important to be able to control key elements in a good SEO job, such as, for example, the title of the page (tag <title>), the text of the meta-description (which is what is seen in Google results), have a sitemap (map of the site for Google), be able to control which pages Google should index and which not, etc.
5. Differences in security
An essential part of your work on your website has to be aimed at controlling and securing your website on the Internet.
This basically revolves around two pillars:
That your website is safe for the public , with the contracting of SSL and HTTPS certificates (the little green padlock that appears in the upper left corner)
That the operation of your website is assured , with software updates, plugins and relevant themes and automatic backups.
Again, we are faced with a scenario in which WordPress.com does everything, and in WordPress.org we have to do it ourselves , although in most hosting services the technical support team does it (or they help you in big measure).
The problem with WordPress.com is that, in order to access backup copies and automatic updates, you must access the Business plan , paying 25 euros per month , compared to less than 10 euros for which you can hire a good hosting service.
Therefore, we could say that it is a matter of choosing the hosting that includes the greatest coverage in its technical service and choosing, again, the WordPress.org option.
6. Blogging and personal branding
This is perhaps a much more subjective point than others, since if your goal is to have a personal blog, you may prefer ease over functionality .
From WordPress.com you can have a beautiful blog for free , but the design possibilities are much greater on WordPress.com . It is also important that you think about the scalability of your idea.
Maybe right now, you just want to have a small blog as a hobby, that doesn't need a lot of care or work and that you don't want to reach a lot of people, but think that it can get better and better, to receive many visits a month because at people like what you write.
At that point, you will want to monetize your blog , or grow your website. If you have started your project on WordPress.com it will be more complicated to do it, while if you start from WordPress.org you will have the ability to grow from day one.
Still, both platforms are fine for creating a personal blog.
7. Monetization with advertising and affiliation on WordPress.com vs WordPress.org
The WordPress.com advertising program is WordAds and with it we can show ads from Google, Facebook, AOL…
The problem is that, if you want to earn income on your WordPress.com site through ads, you must have contracted the Business or eCommerce plan and have a custom domain , and therefore, at least 25 euros per month.
This way you can add advertising from third parties such as Google AdSense, OpenX, Lijit, BuySellAds and Vibrant Media.
If your plan is Premium (8 euros/month) you can only use sponsored posts (posts to directly advertise a service or product), affiliate links and WordAds.
And finally, in the Free and Personal plans (4 euros/month) of WordPress.com you can use affiliate links or sponsored posts.
As usual, with WordPress.org you are completely free to monetize your blog from the moment you want and without extra expense, while as we have just seen, in WordPress.com we have to make a monthly investment of at least 25 euros so you can start earning money from advertising passively.
8. Creation of online stores
In WordPress you can set up an online store thanks to a famous plugin called " Woocommerce " that you have surely heard of at some point.
What this plugin does is allow us to set up an online store completely free of charge , based on a WordPress website.
That is, first we set up a website in WordPress and then we download and activate this plugin to implement the online store.
As we have just seen (at various points), on WordPress.com we cannot install plugins up to the Business plan , while on WordPress.org we can.
Therefore, with a few euros per month (from hiring a hosting service) you can set up a very powerful online store with WordPress.org and WooCommerce , in which to sell products that you want, while to do it with WordPress.com the minimum investment is 25 euros per month.
Here I want to remind you of the importance of choosing a good hosting because online stores are more demanding for the server than a normal web page.
9. Price of a website with WordPress.com vs. WordPress.org
With everything we have seen so far, we can confidently conclude that the version that most interests us in terms of value for money is WordPress.org.
This is mainly due to:
Not being able to install plugins until the Business plan, which is 25 euros per month, when in WordPress.org for five euros per month we can have it from the first moment.
Not being able to do automatic upgrades up to the Business plan, while at WordPress.org we do it for free.
10. Support
This is one of the few cases in which there are no major differences between the two tools, and we find very good service in both.
Of course, in the case of WordPress.org , as we saw before, it will depend on the quality of the hosting service that you have contracted , but normally the quality of the specific support for WordPress is high.
On the other hand, at WordPress.com you have a very efficient technical service and, logically, specialized in the subject.
Comparison summary WordPress.com vs WordPress.org
As a finishing touch to this post and to summarize everything we have seen so far and the conclusions, we are going to see this comparative table:
As a conclusion, the usual WordPress.com line is to sacrifice flexibility for ease. On this platform, everything is done, even if we pay much more for it.
In fact, to get the same benefits as in WordPress.org , we must contract at least the Premium plan , which is 25 euros per month , compared to 5-10 euros to contract hosting for WordPress.org.
If not, with the most basic plans, Basic and Premium , we do not have the option to install plugins , so the most basic tasks, such as site design or SEO work, will be much more difficult.
If we opt for this last WordPress.com option , the differences that we are going to find are:
Easier installation on WordPress.com , although most hosts have automatic WordPress.org installers, so the tasks are very similar.
Site security at WordPress .com is managed by the platform . At WordPress.org we have to do it ourselves, although we have the option of asking for help from the technical support of our hosting.
Therefore, the verdict is:
The free com plan is not valid for any website that is not a mere toy.
For modest projects (small website or personal blog) we could use the cheapest WordPress.com plans , although for a user who is not afraid of a bit of the technical part of hosting, we still recommend WordPress.org.
For professional projects (such as a website for a business) it is recommended, or the superior plans (Business and eCommerce) of WordPress.com or WordPress.org with hosting. If we look at the quality / price ratio, WordPress.org compensates to a great extent, in addition to having much more travel.